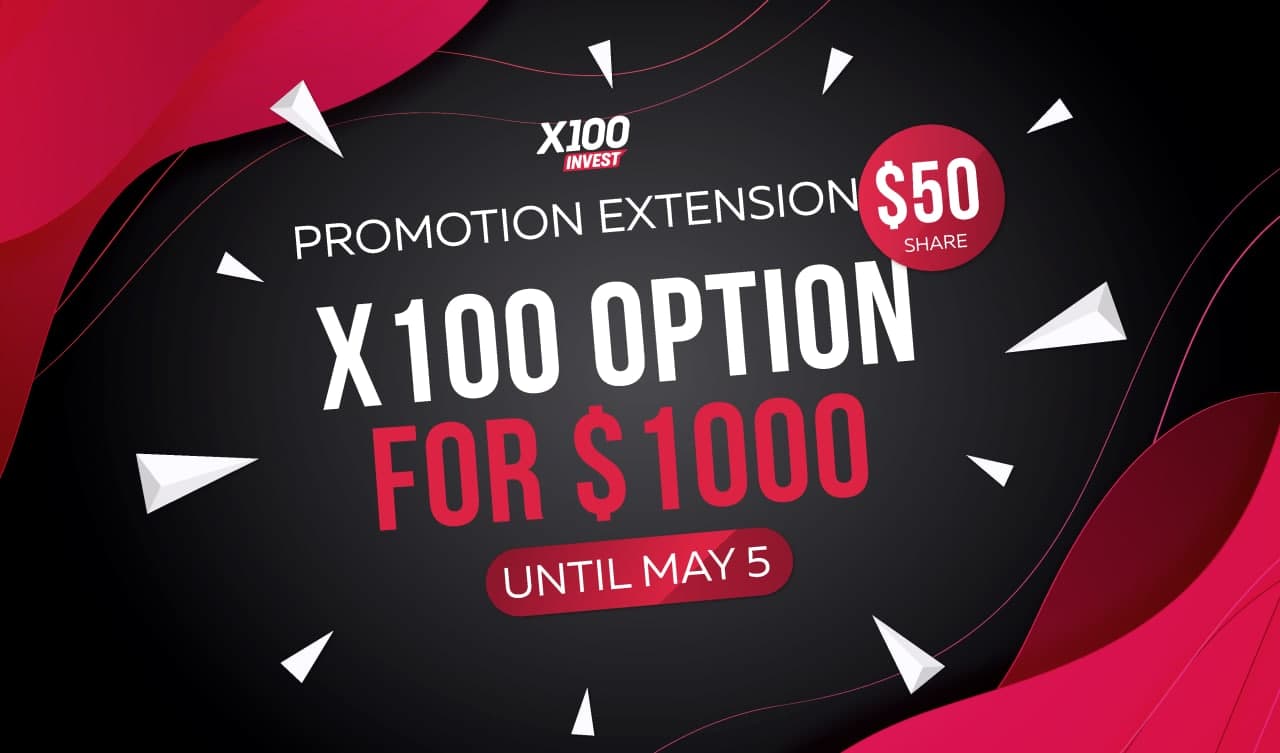 Promotion Extension X100 OPTION For $1000 Until May 5
HOORAY!!!!!!
On the occasion of Alex Yanowsky's Birthday on May 5, It was decided to extend the terms and conditions to purchase Option X100 at a minimum cost of $1000 instead of $15000 (at $50 per share)
The promotion will continue until May 5.
If you have already purchased X100 Options accumulatively $1000 or more, you are available to purchase from one share at $50 in this lot
https://x100invest.com/store/product/view/id/184
Take advantage of the cool terms and get maximum results!
DID YOU FORGET?
In your business advisor's office, in the referral links section, is there an interesting tool to help you close great deals?
"Option X100 - General Product Presentation."
This video strip will explain to your potential investor all the benefits and terms and conditions of buying Option X100
How to get the link to the landing page:
⠀
-Go to your business advisor's office
⠀
- in the referral links section, click "Choose a landing page to form a link"
⠀
- select from the list: "Option X100 - General Product Presentation"
⠀
-scope the link by clicking on the icon on the right
- send to an interested potential investor
IMPORTANT: notifications about candidates' registration from the link comes both to your email and to the chatbot (if it's connected).
⠀
Wish you great deals! Good luck!
Other news
THE NEW BRAND OF X100 HOLDING! We invite you to an amazing an amazing online presentation of the new X10...
In August 2021 we opened +30 new X100SUSHI outlets. New restaurants added to X100SUSHI SUSHI MASTER +5 - Galati ...
A NEW BRAND IN THE X100 HOLDING! We are glad to present you the chain of fixed price stores DAFIX, which will gra...
FOLLOW
THE
MASTER